★★★★★

"I wasn't sure I'd like a book of this type, but I was completely blown away. What a mixture of horror and the mystical, characters and their relationships, and thundering thrills at every turn.
I couldn't stop reading, ran down the battery on my Paper White and immediately ran to read it on my phone. I've *never* done that before."


Mary A. Madsen

5 star Amazon review
★★★★★

"What a exciting story! I loved the fast pace and the supernatural danger that the protagonists faced ... one of the things I love best in any story is learning new things, and the ancient Maori gods are a thrill to learn about ... Although I don't usually read horror or even thrillers, this book captured my imagination in a wonderful way."

Saralee Etter

5 start Amazon review
★★★★★

"Risen Gods is a page turner that walks the line between a dark fantasy setting and a fast paced thriller. I flew through this book, wanting to know what happened ... Expertly woven into the story are tidbits on the Maori Gods and descriptions of New Zealand that feels fresh ...the perfect book to read at the beach or on a plane."

Scott King

5 star Amazon review
★★★★★

"Nonstop action. Maybe even a little too much action. But that is what thrillers are for. Still, I'd like a breather between the world falling apart.
All-in-all a good read. Anyone who likes fast-paced stories and a dash of creepy stuff will enjoy this novel."

SA Combs

5 star Amazon review
In Risen Gods ...
Ben and Lucy must battle their way north, facing the demons and Maori risen gods who stand in their way.
J.F. Penn lived in New Zealand / Aotearoa for six years and traveled across the country researching myths and legends. The story is based on real places and creatures from Maori myth, and inspired by the earthquake and tsunami that hit Christchurch in 2011.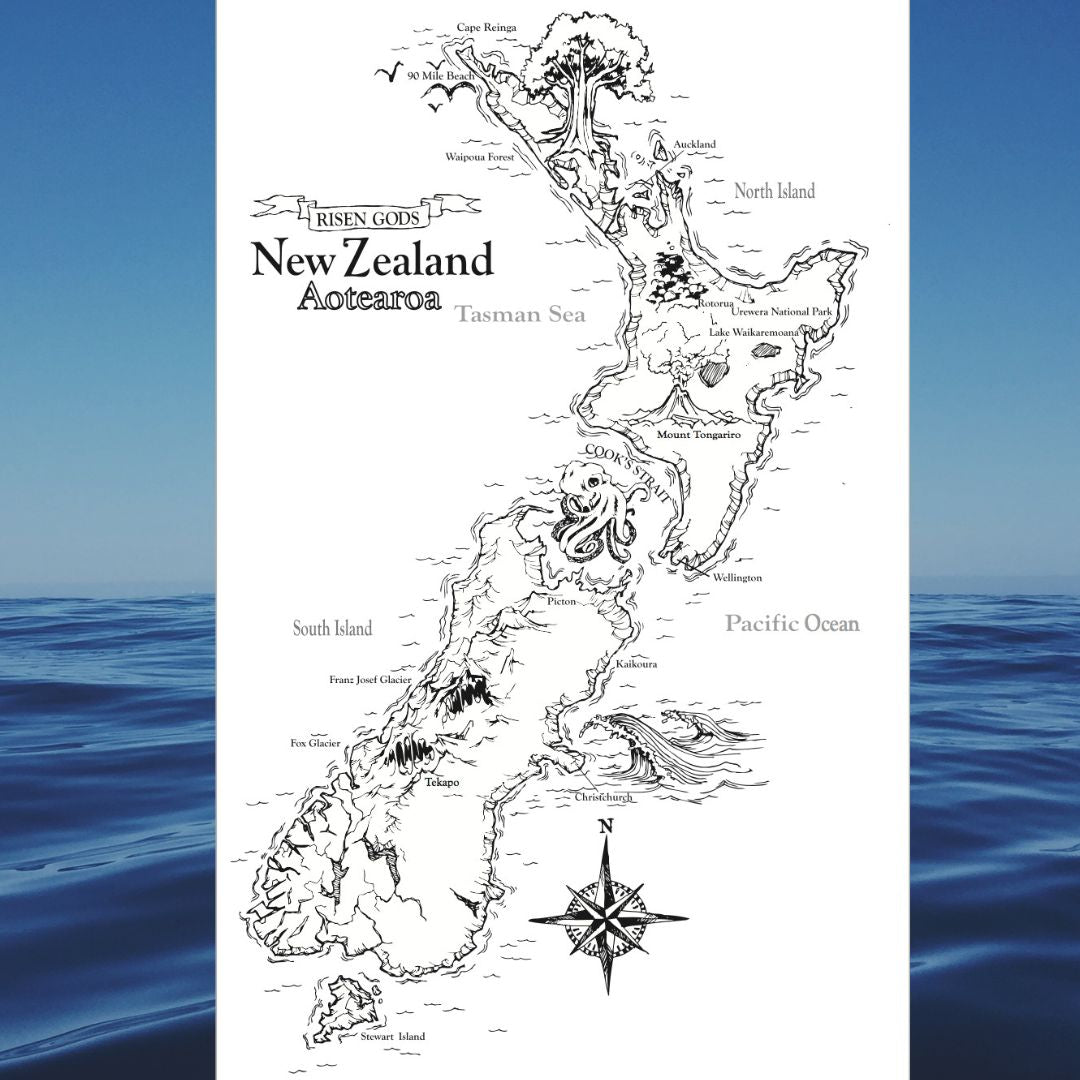 Kraken-like creature out to get the heroes and horses saving them
An action-packed adventure across New Zealand with loads of natural disasters, Maori gods out to cleanse the land, and some beautiful scenery. The stakes are high for Lucy and Ben, they see a lot of death and lose a lot of loved-ones. I liked the appearance of the horses to help them. And the kraken-like creature of the sea out to get them… Awesome!
There are some issues with the book (POV jumping in scenes, a lot of characters getting POV time just to die, typographical space splitting scenes that shouldn't be split), but it doesn't detract from the story. Much.
A thrilling adventure that can be read in one sitting.